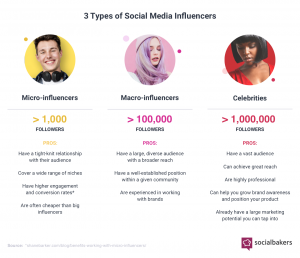 With the rise of social media marketing, social influencers have become a hot topic. Social influencers are people with a plethora of knowledge and experience in their industry. They usually gain traction by voicing their opinions on products or services and reviewing or recommending products for the public. One way to think of these individuals is to think of them as brand advocates.
According to Expert Voice, social influencers can be broken up into various subcategories. Macro-influencers are well known and have many followers. Micro-influencers have a "higher-quality" influence with their audience and tend to be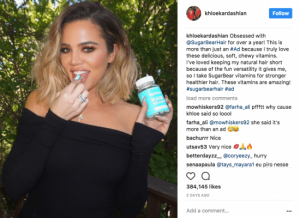 credible and impactful. Nano-influencers have very few followers and deliver what are considered to be "authentic and trustworthy" messages. Celebrity influencers (think Kylie Jenner and her partnership with Fashion Nova) are famous and have a massive following. The one thing these sub-categories of influencers have in common is that they are all paid, whether in cash or in exchange for free products.
There is also a smaller sub-set of influencers known as "opt-in influencers." These influencers are essentially organic influencers who love certain brands and products so much, they just want to share their knowledge and opinions with the public. Brands not only love these types of influencers because they offer free promotions, but the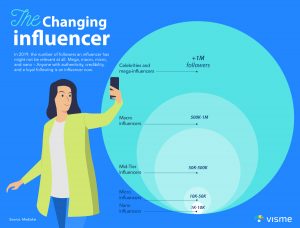 public loves them too because their reviews seem so much more authentic and unbiased since they aren't receiving any type of monetary gain. Usually posts made by organic influencers have better engagement rates, are cost-effective or free for companies, and feel truly authentic. The everyday average consumer who wants real opinions from other average consumers might tune in to a review offered by an organic influencer versus a paid influencer. Paid influencers not only come with a price tag, but they tend to target more specific audiences and don't always feel as authentic because they are promoting a product that they are being paid to promote, and consumers know this.
Different types of influencers are best suited for different types of brands, products, and marketing campaigns. There isn't a one size fits all approach. Influencer endorsements are becoming very important in the field of marketing, regardless of the type of influencer used. When a brand chooses to work with a social media influencer,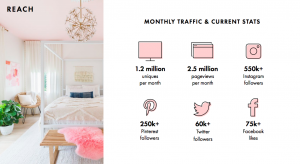 they are many times giving their brand a boost in the eye of the public. Influencers tend to have followers who care about what the have to say and they can absolutely make a large impact and get consumers to make purchasing decisions. Social media and influencer marketing has become a modern way to market, and according to a recent study on the Remarkable Rise of Influencer Marketing, delivers 11x higher ROI than more traditional forms of digital marketing and marketers often see a 7X return on their investment. This is a significant difference and one that may make a world of differences for a brand.
Influencer marketing is a great opportunity for brands to dive into and connect with target audiences on many levels. Not only can this practice bring success to a brand, but it is a modern and fun way for a brand to market in order to stay up to date with younger generations. Choosing an influencer does involve a great deal of research, as it is important to choose an influencer who best aligns with a company's values and fits a certain niche. However, the credibility and expertise that influencers bring when advertising for a brand could be just what a company needs to be more impactful.
Citations
[email protected]. "Who and What Are Influencers? – Blog." ExpertVoice, 18 Mar. 2019, https://www.expertvoice.com/who-and-what-are-influencers/.
"The Remarkable Rise of Influencer Marketing [INFOGRAPHIC]." Influencer Marketing Hub, 19 Mar. 2019, https://influencermarketinghub.com/the-rise-of-influencer-marketing/.