Storytelling is one of the best ways for marketers to engage customers. A brand's story focuses on the history surrounding a company. These stories speak to consumers by demonstrating how companies do business, why they do business, and how they can help customers solve their problems as consumers. A brand's story really brings personality and an impactful meaning to a business and as a result, consumers are able to make lasting connections. Clear Voice describes the need for brand storytelling perfectly: "In today's noisy, techy, automated world, storytelling is not only still relevant, it's important. Without stories we can connect with, we lose something big when humanity gets lost in technology."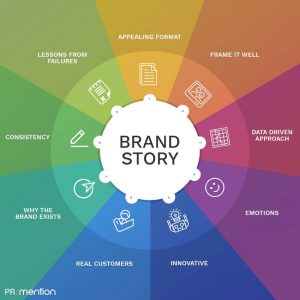 Have you ever been on a company's website and read the About page? Typically, the company's story is found here. This is where they explain to consumers who they are and what their brand is about. Oftentimes, the company's mission is evident through their messages and marketing materials as well. The other part of the brand story lies within the brand's consumers. It is the brand's job to discover what their stories are and how a brand can help them reach the solution to whatever problem it is they may have. Finally, storytelling is used in branding to tell marketing stories. In order for a company to best connect with their customers on an emotional level, storytelling is used. When consumers are convinced that they need a product or service, storytelling helps them connect with the brand. Marketing techniques oftentimes won't reach consumer in the same way that storytelling would, making it a crucial part of marketing.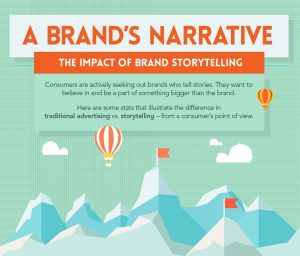 As an article by Forbes puts it, "In addition to being an important strategic tool, storytelling can be an important tactical tool that lets marketers engage consumers in a fragmented media world. Because there is such media fragmentation, consumers are not just looking for different experiences but different delivery. Why should a consumer give you their time? Storytelling isn't just a creative approach to marketing. It gives your consumers a totally different entry to your brand."
Stories matter for businesses. While the features that a product offer are an absolute part of the bigger picture, many people use logic and their emotions to make purchasing decisions. This means that a business must have this very important emotional part of their brand perfected. Without this, brand only have their prices and qualities to stand by. When a brand successfully tells its story, it can avoid this. When a consumer trusts your brand, they become loyal and this therefore leads to more business on their behalf. There are reasons that successful brands like Apple have such a huge fanbase. They tell great stories. According to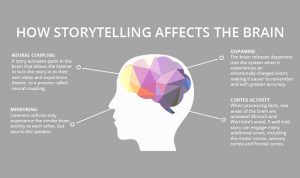 Linkdex, "Stories are made to be shared, and they're more memorable than simple facts."
When a brand keeps their mission and vision in mind, they can embrace the power of storytelling and fly with It in order to reach new heights. When storytelling art and science come together to paint a story, the brand becomes memorable and the customer becomes hooked.